Cagayan de Oro - Camiguin, Philippine Tour
Day 4
We thought we already missed the chance to go to
Macahambus Adventure Park in Cagayan de Oro
in Day 1 and resigned to that fate.
After checking out from Lamar Inn before noon, we have some time before our return flight to Manila. So we thought, we just hang around SM CDO to kill time.
So, we hailed a taxi and soon enough the driver talked us into finishing our Cagayan de Oro - Camiguin Tour with a bang - an exhilarating experience at the
Macahambus Adventure Park
.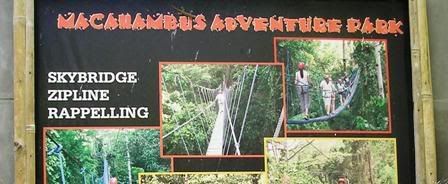 Manong Rey was the driver of the cab. While traveling we shared to him that we missed going to Macahambus and try the zipline and sky bridge. He convinced us that our time, effort and money for this tour would be more worth it if we experience Macahambus, especially that it would only take little time. Of course, we suspected that his suggestion would entail a larger rate. We agreed on 300 Php, inclusive of the travel from downtown CDO, to Macahambus Park and then to SM CDO. We found that fair enough.

When we reached the adventure, a class of students was there as part of their own tour. We have no choice then but take pictures as we wait. Hehehe!!!


Finally, its our turn to cross the

Skybridge

. The Skybridge is a 123 meter long bridge suspended 150 meters above a gorge that I failed to see the bottom. It is divided into 2 sections.


With a harness looking secure, I never really felt as afraid as in the whitewater rafting adventure. At the time, only two of us are crossing that is why less vibration on the bridge.
True, you will get apprehensive when you look down, because you'll notice that the wood you are stepping on has a gap in the middle.

Finally, we reached the hyped

Zipline

. It is a 120 meter slide with the same gorge beneath. Unfortunately, perhaps due to our excitement and eagerness, we never thought of shooting some pics while riding the zipline. Soon, we were sliding through the cable feeling the rush of air. If I may say, the zipline ride is a bit short.

For a non-adventurous guy like me, the experience was liberating. I encourage you to try it the moment you had the chance. Manong Rey shared that he had never tried it even though he lives near the place.

To give you an idea, here's a picture of zipping through the cable.



If you ever come CDO's way, don't missed the chance to try what Macahambus Adventure Park has to offer.

Expenses
Taxi - Php 350 ( from downtown CDO to Macahambus to SM CDO) + Php 50 tip)
Adventure Fee - Php 600 ( Php 300/head)

Total : Php 950
Tips

We felt some insect bites during the adventure. So, we advise you to apply insect repellant lotion before doing the adventure. Do not forget to take pictures on all the adventure. If you decide to go there in a pair like us, we suggest each of you have his/her own camera.